BCCA's Building Feature Naming Opportunities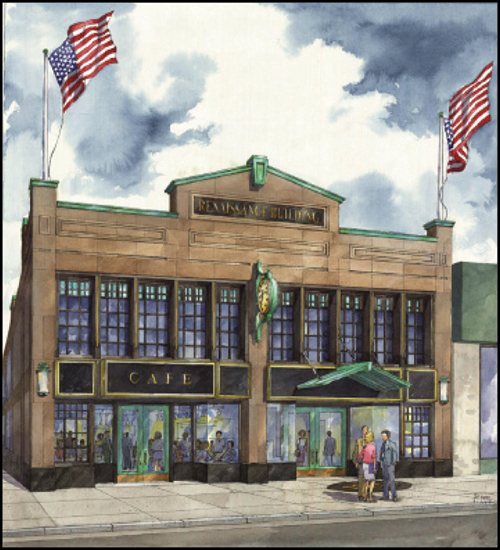 Your generous tax-deductible gift will allow for the completion of our New Building Campaign, making our modern, 15,437 Sq.Ft. 2nd Floor facility a permanent part of the Greater Boston landscape. A customized brass plaque will prominently adorn each named feature of our building, as a lasting tribute to your philanthropic contribution. Dedication ceremonies will be held in honor of each donor, featuring a reception and select performances by our faculty members.

Click on these links to view:
§ our New Building Campaign page
§ our architectural plans
§ a detailed listing of the building features & rooms
§ the building data sheet with biographical information on Renaissance Properties (the owner)
Name One of the Seven Studios (featuring state-of-the-art sprung-wood floors, wall-to-wall, back-lit mirrors, and A/V systems):

§ Studio 1 – $100,000 (637 Sq.Ft.)
§ Studio 2 – $100,000 (644 Sq.Ft.)
§ Studio 3 – $150,000 (620 Sq.Ft. – All-purpose Gym & Private Training Room)
§ Studio 4 – $200,000 (1,193 Sq.Ft.)
§ Studio 5 – $175,000 (1,035 Sq.Ft.)
§ Studio 6 – $225,000 (1,239 Sq.Ft.)
§ Studio 7 – $360,000 (962 Sq.Ft. – Theater "Stage 7", overlooking the Grand Ballroom)
Name the Grand Ballroom and Entertainment Hall (3,467 Sq.Ft., adjacent to the stage):
§ $500,000 – This spacious ballroom will house over 250 functions a year, including dance, theater, and music performances, social dances, private affairs, and more
Name One of these Theater and Entertainment Hall Features:
§ Main Lighting, A/V, & DJ Booth – $15,000
§ Theater/Stage Lighting System – $25,000
§ 200-Seat Automated Theater Seating System - $360/Seat ($72,000 total)
§ 200 Orchestra/Banquet Seats – $180/Seat ($36,000 total)
§ The "Ballet" Bar – $54,000 – A full service food and beverage station
§ Back Stage Right & Left – $25,000/Each ($50,000 total) – Performance dressing areas and control rooms
§ Wheelchair Lift – $25,000 – This 2-stop lift, provides access from the grand
ballroom (via Studio 6) to the stage
Name One of these Exciting Building Features:
§ Front Concierge – $150,000 – Commonwealth Avenue 1st Floor entrance & welcome area
§ Main Reception & Lounge – $200,000
§ Main Office – $50,000
§ "Urban Pulse" Dance & Fitness Store – $200,000
§ "Local Motion" Visual Arts Gallery – $360,000
§ Men's & Women's Dressing Rooms – $36,000/Each ($72,000 total)
§ WBCCA Radio Station & Recording Studio – $200,000
§ Conference Room – $75,000
§ Director's Office – $50,000
§ Marketing, IT, & Finance Office – $50,000
§ Custodian Room – $36,000
§ Faculty & Staff Lounge – $100,000
Name One of the 600 Bricks in the Grand Hallway's "Yellow Brick Road":
§ $200/Brick ($120,000 total) – These brass plaques, along with artwork, will adorn our 300-ft-long Grand Hallway year-round
Philanthropists may structure their donations as multi-year gifts, via signed pledges. The above sums are suggested – we would welcome larger donations of personal significance. The BCCA will gladly accept alternate ways to recognize your contributions, and will honor your wishes if you desire to remain anonymous.
The sky is the limit – Let us reach upward and dance into the future!

BCCA is a non-profit, tax exempt 501(c)(3) organization.
BCCA Tax ID number: 05-0548309