Click here for:
§ Concert Information
§ Artist Biographies
§ Directions
§ Co-Sponsors
§ Event Flyer (8.5"x11")
§ Event Banner (320x480 pixels)
§ Event Newsletter



---
---

§ Adrienne T. Hawkins
§ Larry Roland
§ Ricardo Foster, Jr.
§ Anita C. Havel
§ Akili Haynes
§ Jeffrey Louizia
§ Lisa Pari
§ Kenny Peagler
§ Jeffrey Polston
§ Tiffany Prout
§ Waldron Ricks
§ Jon Roland
§ Leslie Salmon-Jones



Adrienne T. Hawkins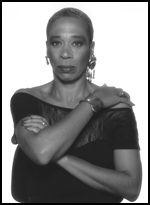 Ms. Hawkins holds a BA in Education from Arizona State University and a MFA in Dance from Connecticut College. Ms Hawkins is Artistic Director of Impulse Dance Company of Boston, which has been in existence for over thirty years. Impulse Dance has toured extensively in the United States and abroad. Ms. Hawkins and is also Artistic Director Bass-Line Motion a duet with Larry Roland, bassist, and Poet. Ms. Hawkins was Artistic Director of The Joy of Movement Center, and was part of the group founders of The Dance Complex. Ms. Hawkins has served on many boards, including Volunteer Lawyers for the Arts, the Strand Theater, and The Boston Dance Alliance.

Ms. Hawkins is well known as a teacher of dance through out the world, she is an award-winning choreographer that is known for her incomparable mixture of humor and passion. She uses the technique of Modern, the soul of Jazz and the power of the theater as a vehicle for freedom in a communicative Art, Art that speaks to the audience.

In addition to creating dances for Impulse Dance company, Ms. Hawkins has set choreography on the National Ballet of Iceland Repertory, Ballet Plus, Dance Express in Denmark, Northwest Florida Ballet, and the Portland Ballet to name a few. She has choreographed rock musicals, music videos, commercials and industrials. Ms Hawkins has been a guest teacher/ performer in, Japan, France, Denmark, the Netherlands, Australia, Northern Ireland, Caribbean, Iceland, Germany and through out the USA in Festivals such as The Harvard summer Dance Program and The American Dance Festival in Connecticut, North Carolina and Japan.

Ms. Hawkins' one-woman show "Beat to Fit: Paint to Match" based on reflections of a person in the United States, first being a woman, second being Black has toured Northern Ireland, Denmark, Iceland, and the Netherlands to much critical acclaim. Ms. Hawkins has been a guest Artist at numerous, Colleges in the US and has been on the faculty, Mt. Holyoke, UMass Amherst and Boston, The Boston Conservatory, Boston University, Connecticut College, Dean College, University of the Arts in Philadelphia, Harvard University, and Stonehill College. She currently is on the Faculty of Codman Academy High School in Dorchester, Dance Inn in Lexington, Dancing Arts Center in Holliston, Jeannette Neill's Studio in Boston, and The Boston Ballet.

Larry Roland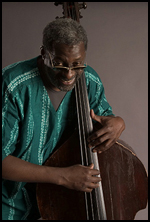 Larry Roland is a native Bostonian. He grew up in the city of higher learning, and learned to absorb all it had to offer. He attended Boston University on an Academic and Athletic scholarship, it was at Boston U that he found his voice for poetry, he was an in demand poet and thrived in that capacity. After graduation he turned to a new creative outlet - the acoustic Bass. He merged his poetry with his resonate voice and acoustic Bass to form a unique combination of Art that blended the European literal, and the African in America Oral traditions.

With a backdrop consisting of music, he explores spirituality, identity and social issues throughout the Diaspora. His lyrics are profound with interludes of hard-hitting drums and soulful bass. Through his performances, he pays homage to the strength and beauty of his ancestors from whom he has gained knowledge, wisdom, pride, and understanding. His intense concentration on his craft/art form and his driving desire to teach and educate people via Spoken Word gives him an emotional high.

As an informed artist, Larry Roland has an in depth knowledge of the effects that words have on his audiences and as such he performs with an attitude of excitement and adventure. He is experienced, yet he is always sharpening his skills to maintain his authenticity and to give the best of himself. His passion for Spoken Word coupled with his music is almost without equal; this subtle sweetness is disarming and seductive which adds another dimension to the man who has a voice that has truly withstood the test of time.

Larry Roland is also an accomplished poet with several published volumes of poetry under his name. He's been reciting his works for well over twenty-five years and has performed them at such places as, Harvard University, Boston University, MIT, Boston's Institute of Contemporary Art, and many other schools, festivals, and events in and around the northeast, New York, and Canada. Larry has also been invited to recite his work at international poetry festivals hosted in such countries as: Lagos, Nigeria; Cologne, Germany; and Balzano, Italy. Musically, Larry Roland has performed and recorded with an array of groups and musicians here and abroad. Larry has two CDs on the Boston Composers Group (BCG) label, which features his work. His latest CD, "As Time Flows On", features Larry accompanying himself on bass and reciting his poetry.

Ricardo Foster, Jr.


Ricardo was born and raised in Boston; he has learned how to deal with the cards dealt. Using his special talent as a dancer, choreographer, performer, actor and model, he has single-handedly made a name for himself amongst many of the today's popular artist. Working and performing with artist ranging from Jay Z to NSYNC, en-vogue to Uncle Cracker, and Destiny's Child to old school classics like Naughty by Nature, and RUN DMC, he has seen it all. With an outstanding personality, he has in a way with audiences, students and his peers alike. By using comedy, simple physical analogies, and story-like premise behind all of his dance movements, he looks to have people understand, enjoy and enhance each class he teacher, and at the same time hopers to help people find a new appreciation of dance and of themselves.

Anita C. Havel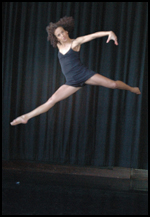 Ms. Havel double majored at University of Massachusetts Amherst in Psychology and Dance. Anita has trained at Alvin Ailey School in New York and is a practicing (Licensed Massage Therapist) LCMT.

Ms. Havel has been actively choreographing in the Boston area for the past seven years. Her work has been produced as part of Impulse Jazz Dance Projects, the Institute of Contemporary Art, A Day without Art, Brooklyn Academy, and Black Orchid World Theatre for Tounges of FIre at MIT Kresge Auditorium.

Anita has performed with Prometheus Dance Company, Impulse Dance Company, Patric Lacroix's Haitian Dance Company and has been a part of many projects with Cle Douglas and Edir. Anita currently teaches Modern and Jazz dance at Middlesex College.

Akili Haynes

Akili is a percussionist and teaches at the New England Conservatory of music.

Jeffrey Louizia

Born and raised in Boston, Jeffrey Louizia discovered his love for dance at Boston Arts Academy. Proficient in many styles of dance, Jeffrey has studied extensively in ballet, tap, modern jazz, modern, and hip hop, as well as traditional Haitian Folk dance. He has studied with such dance masters as Dianne Walker of "Black & Blue", Mark Morris, Bill T. Jones, Nailah Bellinger and Wyatt Jackson. He received his Bachelor of Arts Degree in Dance from Dean College in 2006. Mr Louizia's performances have taken him all across New England up and down the Eastern US seaboard, and into Canada. Jeffrey is currently dancing with Arc en Ciel and Sokolow Dance Foundation.

Lisa Pari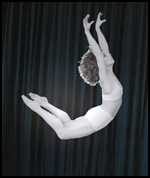 Lisa Pari, born Rimini, Italy. Ms. Pari received her dance training from June Gallagher, Arabesque Dance Center, Rimini, Italy, Myra Silcox and The Dolman Ballet Theatre School, Newport, South Wales. She has performed throughout Europe and the US, and was an original member of London based Alex Buxton Dance Company. Ms. Pari has appeared in many music videos and commercials, and has created works for theatre, industrial and concert stages.

Since moving to the United States, Ms. Pari has been performing as a member of Impulse Dance Company, and as a freelance artist. She has created original choreography for Impulse Dance Company, Bristol Ballet, The Moving Lab, Harvard University Mainly Jazz Dance Co., Dean Dance Company, Dance Theatre Suitcase and Indiana Ballet Theatre.

Ms. Pari teaches throughout the USA and Europe and has been has been on faculty at several New England schools and colleges, including, Impulse Dance Studio, Harvard University, Lexington School of Ballet, Boston Ballet, Middlesex College and Dean College.

Ms. Pari is a certified instructor of GYROTONIC®, GYROKINESIS® and Gyrotonic Specialized Equipment.

Kenny Peagler

Kenny is a pianist and a Graduate student at New England Conservatory of music.

Jeffrey Polston


Jeffrey Polston is a graduate of the North Carolina School of the Arts. He joined Impulse in 1987 and, worked with noted choreographers such as Donald Byrd, Rael Lamb, Warren Spears, Marcus Schulkind and Dwight Rhoden. Mr. Polston also directed an international dance program in Chestnut Hill while in the Boston area. He danced with 'Philadanco' out of Philadelphia directed by Joan Myers Brown, and performed works by noted choreographers Milton Myers and Talley Beatty. He is an original member of Complexions-A Concept in Dance, directed by Dwight Rhoden and Desmond Richardson, and has toured extensively with them over the last 13 years. In addition to performing with Complexions, he is also a Soloist/Principal dancer with The New Royal Ballet of York, better known as 'The New Boys', an all male cast of men on pointe that toured Japan extensive. He continues his love of teaching dance and performing throughout the US, Europe and Japan.

Tiffany Prout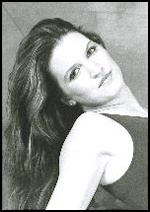 Tiffany Prout has studied with artists from the Boston / New York area such as Mel Tomlinson, Adrienne Hawkins, and Billy Siegfeld. Tiffany has trained extensively at Harvard University and San Jose' State University. She has toured the Northeast with various artists and was a back-up performer for recording groups such as Expose', Stevie B, and Rob Base. Tiffany has performed and taught master classes throughout the United States, Europe, and China. She is an award winning jazz choreographer and has done numerous industrials, commercials, and TV shows. She is a former member, guest choreographer, and chairman of the board of directors for Rainbow Tribe Dance Company. She is the rehearsal director and a member of Impulse Dance Company in Boston. Tiffany's students have placed top in numerous competitions and have been accepted to the leading fine arts universities and dance companies. Tiffany was the resident choreographer for America's Hometown Productions. She choreographed the International Showcase of Nations bringing in 85 dancers to represent the United States. Her mission is to teach and pass on her passion for dance and life to the students of Center Stage.

Waldron Ricks

Waldron, an avid trumpet player, has performed world-wide.

Jon Roland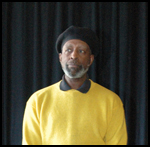 Jon sings with various do-wop groups all over New England.

Leslie Salmon-Jones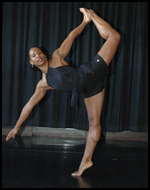 Leslie Salmon Jones, dancer, is from Toronto, Canada. She is a graduate and scholarship recipient of The Alvin Ailey American Dance Center and The London Contemporary School of The Arts. She holds a BA in interdisciplinary studies in Dance and Health, SUNY. As a professional dancer in New York City, Leslie has performed with many choreographer including Judith Jameson, Bill T. Jones, David Parsons and Earl Mosley to name a few. She continues to pursue an active interdisciplinary career in health and dance in Boston and New York. New to Boston, she is currently enjoying working with, Adrienne Hawkins of Impulse Dance Company. Leslie is a member of the Screen Actors Guild and her television debut included a principle role with Bill Cosby on The Cosby Mysteries. She also appeared on the soap operas "Loving" and "All My Children". She played in principal roles on numerous national commercials for national companies such as Ford Motor Company, Charles Schwabb, Reebok and Payless.


---

"[DJ Hernan Choke] Cultivating Boston's Latin Dance & Music Scene"
---