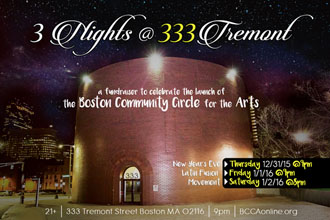 Presents:
"3 Nights @ 333 Tremont"
A New Year's Fundraiser to Launch the Boston Community Circle for the Arts
A full sensory immersion of sight, sound, taste, and texture, throughout the holiday weekend.
Thursday, 12/31/2015
Friday, 1/1/2016
& Saturday 1/2/2016
At
333 Tremont Street
Boston, MA 02116

CLICK HERE FOR:
§ Press Release (PDF)
§ Event Details & Ticket Prices
§ Flyer (JPG)
§ Flyer 3-Up (JPG - Help spread the word)
---
EVENT DETAILS & TICKET PRICES:
Thursday, December 31st – New Year's Eve Extravaganza:
* General admission: $75; Complementary hors d'oeuvres; Complimentary champagne toast; Cash bar.
*
8pm - 9pm:
VIP reception with complimentary cocktail & wine tasting and a private tour of classes, music & media studios, live DJ and music production demos (for community residents and city officials/employees, or those who donate at least $25 beyond general admission).
*
9pm - 1am:

Function Hall: Immersive Disco, House, & Funk music for dancingby DJs Dusty Digital & Kranz, a Breakdance battle, and a live showcase by acclaimed performer & producer Chas Bronz!
Performance Hall: Ballroom music for dancing, Ballroom showcase, modern & urban art show by Percy Fortini-Wright & Rekloos, live painting, Martial Arts by Hung Gar Boston, Jazz & Samurai Taiko Drumming fusion by the Grandmaster Tsuji & the Samurai Academy of Kobudo, tehcnology showcase, and more!
Friday, January 1st – Latin Fusion Dance Party:
9pm - 1am
* Enjoy 2 floors of Latin dance music by renowned DJs Hernan & D. Martinez (complimentary Salsa & Bachata lessons at 9pm by Dan Marshall & Nina El-Badry (all levels; no partner needed), Latin dance showcases, and close-up magic by Rogue (of America's Got Talent fame).
* General Admission: $25; Complementary hors d'oeuvres; Cash bar.
Saturday, January 2nd – Movement Resolution:
8pm - 1am
* Dance to Deep House by acclaimed DJs Smeed & Suspence, Erlon, Mr. Don, and Andrew & Gallagher. The event will be streaming on Beatport Live and we will feature amazing close-up magic by Rogue.
* General Admission: $25; Complementary hors d'oeuvres; Cash bar.
All Events:
Festive attire;
21+
$10 off for members, seniors, students, Bay Village residents, city officials/employees, verterans, BDA & StageSource members, and arts & labor unions (SAG-AFTRA, IATSE, DGA, WGA, AEA, etc.).
Tickets sold online (via the form on the left)
and at the door. Advanced purchases encouraged.
---
FOR MORE INFO & HELP WITH ONLINE TICKETS & DONATIONS:

Dan Marshall
E-Mail: Dan.Yonah.Marshall@gmail.com
Phone: (617) 642-1444
---